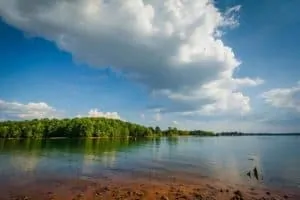 Lake Norman real estate is highly coveted and more and more people are looking to move to this fantastic area every day. There are plenty of reasons to choose to move to the area which decades ago was merely viewed as a weekend getaway spot. The development of Interstate 77 in the mid-Seventies made it possible to live in this idyllic vacation spot and still have access to big city life just a short drive away.
Lake Norman boasts more than 500 miles of shoreline and is adjacent to four counties: Catawba, Lincoln, Iredell, and Mecklenburg. This working lake was created for the purpose of hydroelectric power and is eight miles wide at its widest and over 30 miles long which gives it its nickname, "The Inland Sea."
With increasing amounts of people looking to live in the Lake Norman area and work in Charlotte, many of the surrounding communities have seen a boom. Your trusted Lake Norman realtors are able to tell you that residents no longer need to travel to the city to find good shopping as numerous antique shops, national retailers, upscale stores, quaint mom and pop stores and much more are regularly popping up around the lake.
Of course, from Davidson to Mooresville, realtors are quick to remind you that one of the biggest attractions to the Lake Norman area is what made it a vacation spot in the first place: the lake itself. From fishing and boating to simply walking the shore or enjoying a fantastic meal at a lakeside restaurant, the Lake Norman area offers its residents a lifestyle that is unparalleled.
Aside from swimming off a boat or entering the lake from private land, the only way to swim in the lake from the shore is at Lake Norman State Park which comprises 1,600 acres. At the Troutman park you can bike, hike, picnic, camp, and more. Spending a beautiful North Carolina day in the outdoors is part of Lake Norman living.
This is not to mention the excellent public and private schools in the area that have been attracting young families to the area for year. Combine the quality education system and the multitude of parks and recreational areas and the Lake Norman area is an ideal place to raise a family. These factors and the safety of the communities will continue to draw families to the area for years to come.
If you are interested in purchasing Lake Norman real estate or have any other questions about the area feel free to reach out to ROOST Real Estate. Call 704-966-2117 to speak with our friendly staff today.
---
Find More Valuable Information & Read Our Blog!
ROOST Real Estate
Mooresville Realtors — License Number: C20900
704-800-6679 | info@roostre.com